Whitetail Deer
Hunting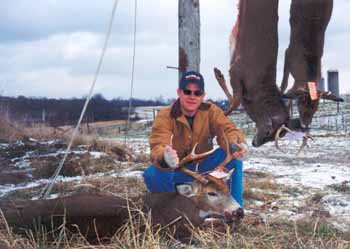 Whitetail deer hunting trips are offered in our Southern Zone Camp. These hunts are timed for pre and peek rut. Our deer herd is in excellent condition and our area consistently yields a large harvest. Our bow hunters will be hunting on privately owned and managed land in New York. Our stands are placed to offer shots from ten to thirty yards and are fifteen feet high.
Our whitetail deer hunting trips have yielded high success rates and we can guarantee action. Non residents must purchase their license from New York State Department of Environmental Conservation.
Our Northern Zone wilderness camp, located in the Adirondack Mountains, also provides our archers with the opportunity for bow hunting black bear in September or a deer and bear combination hunt in early October. Archery hunters can also harvest a buck or doe during this season. This camp, located inside the Adirondack Mountain range, is in Hamilton County, well known for producing some of the biggest bucks in the state of New York.
The Adirondack Black Bear population is one of the best in the North East.
For more information on season dates or help in choosing a hunt best for you, call us at C.P.'s Guide Service (315) 360-7113.